Daisuke Yamamoto

Info

Kamen Rider Series:

Gender:

Male

First Appearance:

Kamen Rider Decade Episode 28 : Amazon, Friend

Last Appearance:

Kamen Rider Decade Episode 29 : The Strong, Naked, Strong Guy

Number of Episode Appearances:

2(Decade)

Actor:

Enrique Sakamoto
Amazon (アマゾン, Amazon) is a man from the Amazon Rainforest who traveled across the world to find a place that he could call home, eventually arriving in Japan where he fights Geddon as Kamen Rider Amazon (仮面ライダーアマゾン, Kamen Raidā Amazon). His full name is not given in the television series, but is mentioned in Televi-Kun magazine, which his real name was Daisuke Yamamoto (山本 ダイスケ, Yamamoto Daisuke).
Biography
Edit
Though disillusioned after Masahiko used him to get the GiGi Armlet, Amazon regains his trust in humanity when the boy returns the armlet, finding his place by the Okamura. Afterwards, he aids Decade in battle against Apollo Geist and Llumu Qhimil, forcing Apollo Geist into retreat with his Dai Setsudan and destroying Llumu with his Super Dai Setsudan after Decade equipped him with the GaGa Armlet
Kamen Rider Amazon
Edit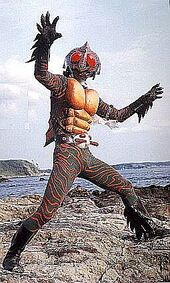 Like the original Kamen Rider Amazon, this Amazon has only one form.