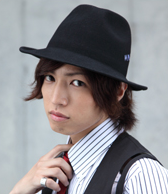 Welcome to the Kamen Rider Wiki
Edit
Welcome to the Kamen Rider Wikia, a Wiki where you'll find all the latest info about the entire Kamen Rider series. So, whether you're just browsing, or whether you wish to help us out by editing a few articles, we hope you'll enjoy browsing our Wikia!
Featured Page
Edit
Shotaro Hidari (左 翔太郎, Hidari Shōtarō) is the left half side of Kamen Rider Double but also a rider of his own self as Kamen Rider Joker. He is a self-dubbed "hardboiled detective", though considered "half-boiled" by others, who dresses in the style of the late 1930s. He works as a detective in the city of Futo.Vowing to stop anyone that makes his city cry, Shotaro took on the job as the protege of his mentor Futo's private investigator Sokichi Narumi. However, in the investigation of a mysterious organization, which led to Shotaro meeting Philip, Sokichi is shot to death leaving Shotaro to continue in his stead. Refusing to let his mentor's memory be in vain Shotaro works to stop the Dopant crime wave by being the man on the street, contacting his various informants and transforming into Kamen Rider Double by providing his body for the combination.
Want to read main page,click here
Other Wikia
Edit
Thank you!